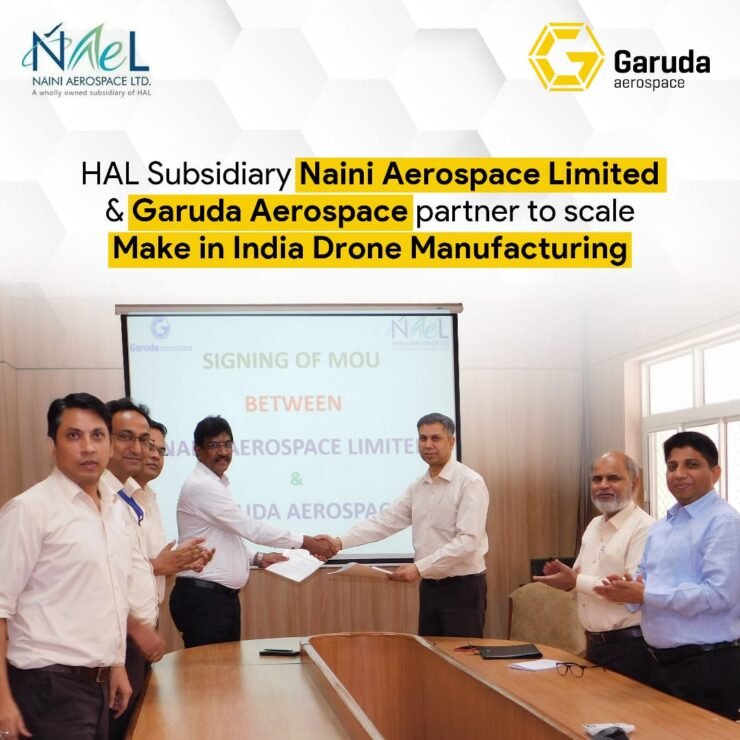 Chennai: In a massive step towards boosting the manufacturing of indigenous drones in India, Garuda Aerospace and Naini Aerospace Limited (NAeL), a wholly owned subsidiary of HAL (Hindustan Aeronautics Limited) under the administrative control of the Ministry of Defence has signed a joint development partnership. The joint partnership will enable Garuda to manufacture Advanced Precision Drones on Indian soil for various applications. The drones will be able to carry a payload of around 25 kg.
Speaking on the development, Agnishwar Jayaprakash, Founder and CEO, Garuda Aerospace said, "Our Prime Minister's Vision of achieving the milestone of 1 lakh Made in India drones by 2024 is well on track. Our partnership with Naini Aerospace Limited (NAeL) (a wholly owned subsidiary of Hindustan Aeronautics Limited) is a natural next step for us. Our Drone Yatra has also been a grand success and we have pre-booked over 7000 drones at Rs. 4.5 lakhs each. Partnerships with Government PSUs are critical given the knowledge and experience they possess to scale up production. We will continue to stay focused, and partner with industry leaders that will help us achieve our PM's vision."
Furthermore, Garuda Aerospace recently partnered with BEML at Aero India for drone manufacturing at their Mysore facility and initiated a massive indigenization campaign. The company has also collaborated with 120 local suppliers with the objective of reducing reliance on foreign imports of drone parts, components, and UAV subsystems.
Speaking on the partnership, R.R. Thakur, Chief Executive Officer, Naini Aerospace  Limited (NAeL) added, "We are very excited to be working along with Garuda Aerospace on the rapidly evolving drone sector. Our experience with the production of Helicopter structures was launched on July 11, 2018 in a newly constructed Aero-structure hangar equipped with State of Art facilities. The first batch of helicopter structures duly cleared by the Director General of Aeronautical Quality Assurance (DGAQA) was delivered to the Helicopter Division of Hindustan Aeronautics Limited on November 22, 2018. NAeL has now reached the level of full-fledged operationalization with proven capabilities in the field of production of Aero-structures and Aircraft loom manufacturing. Currently, key managerial positions are occupied by experienced professionals deputed from HAL to ensure compliance of operations to the Aerospace Standards so we are confident to bring in knowledge and experience to jointly develop drones along with Garuda Aerospace".
Naini Aerospace Limited (NAeL) was incorporated in December 2016 as a wholly-owned subsidiary of Hindustan Aeronautics Limited (HAL). Naini Aerospace has a vision of sustainable manufacturing operations in the Aerospace and Aviation Sector and is situated in the Naini industrial area of Prayagraj developed by UP State Industrial Development Corporation.
The partnership with Naini Aerospace Limited (NAeL) strengthens Garuda Aerospace's leadership in India's drone manufacturing ecosystem.  With Garuda Aerospace now having a presence in UP, delivery and access to clients across North, West, East and North East will become seamless. The partnership also enables a reduction in cost given the ease of transportation. The factory is located on the Prayagraj-Mirzapur highway, approximately 20 km from Prayagraj city centre. Naini, Prayagraj is being considered for inclusion in the proposed defence industrial corridor of Uttar Pradesh.