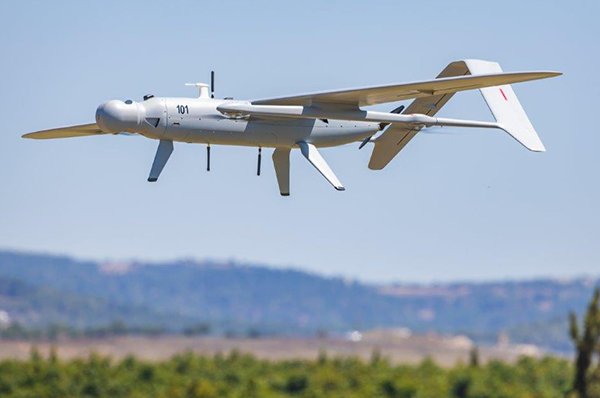 Tel Aviv: The demand for small UAV's is growing and Israeli company Elbit Systems is making an effort to meet it by offering new designs and new more capable payloads.
"Our effort is to equip these small UAV with more capable payloads and allow a single soldier to operate the system in combat conditions," Mike, program manager, mini tactical UAV, VTOL programs in Elbit Systems told Raksha Anirveda.
The company official added that in addition to the capable payloads, the new tactical UAV's can easily be integrated in command and control systems used by armed forces. The new payloads are designed to allow a combat unit to get all the needed data about the fighting area, Mike added.
The company recently unveiled its transitional vertical take-off and landing small tactical unmanned aerial system (STUAS) Skylark 1 eVTOL.
Weighing up to 20 kg, the new Skylark 1 eVTOL is a man-packed or vehicle-based platform offering the endurance and range of a fixed-wing STUAS with the capability to hover, take-off and land vertically. Combined with onboard analytical capabilities, the Skylark 1 eVTOL significantly expands the operations of tactical forces and enables fast deployment in order to organically perform intelligence, surveillance, target acquisition and reconnaissance (ISTAR) missions.
Omer, director, business development of Elbit Systems' aerospace division explained that the fixed hand launched tactical UAV's are too small to carry a more advanced payload and this is one of the reasons the company decided to develop the eVTOL types of UAV.
According to Elbit Systems, this new STUAS is ideal for dismounted, vehicle, man-packed or ship-based operation, designed to provide an organic airborne ISTAR capability for lower tactical echelons. It supports various applications including beyond the hill intelligence, target acquisition, force and convoy protection, border patrol, security operations, search and rescue (SAR) missions, environmental monitoring and counter-terrorism.
Based on years of accumulated operational experience, the Skylark 1 eVTOL system is easy to operate (runway independent) and has a minimal logistic footprint. Its unique combination of features make it a force multiplier that provides combatant units with extensive, effective and efficient ISTAR capabilities.