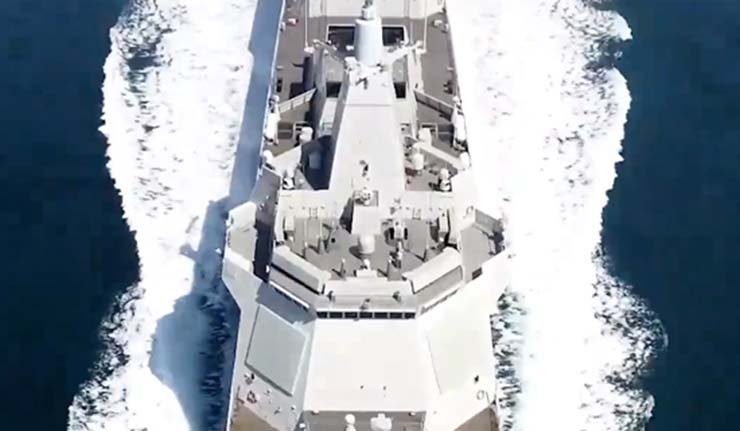 Tel Aviv: The Chinese Communist Party (CCP) started the 21st century with a massive naval expansion program intended to boost its maritime dominance. This was in relation to its long-term strategic objectives of occupying Taiwan and addressing security threats.
According to a special report prepared by the Middle East Media Research Institute (MEMRI), the Type 055 destroyer, an amphibious assault ship with a tonnage of 13,000 tons and stealth missile capability, is one of the important warship classes in this naval expansion strategy. The Type 055 also represents a significant development in the modernization of the military infrastructure of the People's Liberation Army (PLA) Navy.
The report reveals that the construction of Nanchang, China's first Type 055 guided-missile destroyer, began at Jiangnan Shipyard in December 2014, and was the ship launched on June 28, 2017.
"It was officially unveiled to the public on April 23, 2019 when it participated in the naval parade. On January 12, 2020, Nanchang was officially commissioned with the hull number 101." According to the special MEMRI report, the first batch consisting of eight Type 055 large guided-missile destroyers have been manufactured and have entered service.
"It is remarkable to note that all eight 13,000-ton destroyers entered service in just three years. It has been reported that the second batch of eight Type 055 destroyers is currently under construction and is expected to be delivered in 8 to 10 years."
According to the report written by Chris King, the successful and rapid development of the Type 055 destroyers demonstrates Beijing's unabashed ambitions for global expansion. Indeed, as noted above, the CCP had been quietly preparing for its future global expansion for over 50 years.
"This reflects the traditional Chinese habit of strategic thinking, which is to "think long term" and make long-term plans. At the same time, it also shows that the Type 055 destroyer has been positioned from its very inception as a strategic long-range weapon," the report mentions.
According to the report, a number of significant technological advances in the areas of design, information integration, assembly, large ship building, automation, weapons, and radar are represented by the Type 055. The Type 055 is enables the PLA Navy to realize a strategic change from offshore waters defence and open seas protection, according to CCP media agencies.