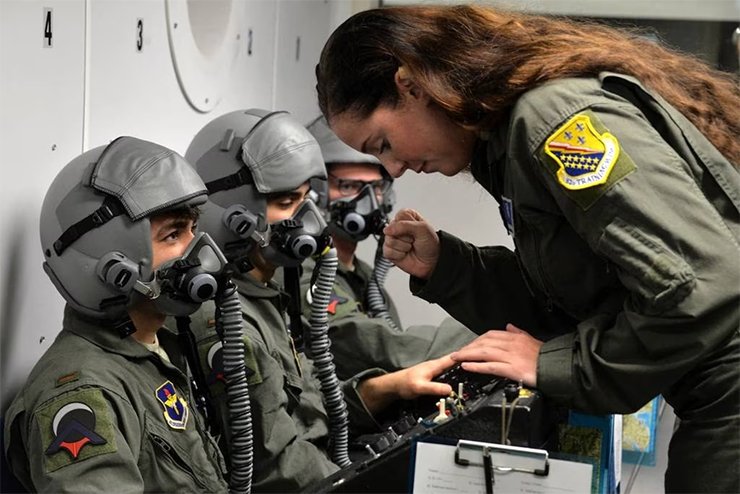 Washington: Five years after the US military began to see a spike in reports of dangerous mental and physical effects experienced by troops in flight — particularly those in fighter and training jets — aviators are breathing easier.
Concerted efforts to curb incidents of hypoxia and other Physiological Episodes (PEs) across the Air Force, Navy and Marine Corps cut the number of reported events from 376 in 2018 to 142 in 2022, or 62% in five years, a media house found.
"We're trying to create that proactive safety mind-set, on- and off-duty. … We continue to watch the trends," Air Force safety chief Maj. Gen. Jeannie Leavitt, who also chairs the Pentagon's Joint Safety Council, said.
Airmen, Marines and naval aviators reported 1,543 in-flight Physiological Episodes (PEs) between 2017 and 2022, according to available data. Most often, PEs involve signs of hypoxia, or a lack of oxygen in the bloodstream. Other instances range from spatial disorientation to unconsciousness caused by pulling Gs in flight, physical reactions to smoke in the cockpit, changes in air pressure and more.
At best, those symptoms are more uncomfortable than debilitating. At worst, they can render pilots confused or unconscious and can lead to deadly crashes.
Leavitt attributes the recent increase in hazard reports to efforts to encourage troops to flag symptoms early and often. Those reports aren't turning up new or unexpected ailments, she noted.
"If we have more reporting, that's a good thing, because then we can get more information, more data and do a better job at root cause analysis," she said.
About one-third of the physiological episodes were severe enough to be counted as official mishaps — though that count plummeted from 155 in 2017 to 28 in 2022. Mishaps can range from minor illnesses and injuries, to incidents causing millions of dollars in damages and dead pilots.
Most official mishaps were recorded as Class C and D incidents, costing between $25,000 and $600,000 or causing a nonfatal injury that could keep someone home from work. Those have declined from around 130 in 2017 to 17 in 2022. Many of those events go unreported because they aren't as extreme or public as a crash, or because no one died.
The most destructive and deadly instances, known as Class A and B mishaps, often come to light through official statements and news reports. Class A incidents result in a fatality or permanent disability or at least $2.5 million in damages; Class Bs cause permanent partial disability, the hospitalization of three or more personnel, or between $600,000 and $2.5 million in damages
Five years after that spike, Air Force planes topped the list of airframes with the most reports of physiological episodes in fiscal 2022: the T-6A (42), F-16C (11), A-10C (9), T-38C (9) and F-35A (6). Hypoxia-related symptoms remain the most frequent issue, the service said.
Air Force incidents accounted for three-quarters of the three services' physiological episodes last year.
Marine Corps MV-22 Ospreys assigned to the 26th Marine Expeditionary Unit conduct deck landing qualifications aboard the amphibious assault ship Bataan as part of its Composite Training Unit Exercise in the Atlantic Ocean May 17. (Lance Cpl. Rafael Brambila-Pelayo/Marine Corps)
The Navy and Marine Corps version of the T-6 has reported fewer than 10 episodes each year since 2019. The Air Force's T-6 fleet has averaged 40 per year in that same time.
One Air Force T-6 instructor pilot said "I don't think anyone has reservations about the T-6," and "if there's an improvement to be made, it's just being self-aware. Training does that."
The Air Force's KC-135R tanker had five reported incidents last year — the same as the Navy's T-45C trainer, the EA-18G and F/A-18E jets — followed by the E-3 AWACS at four.
Other airframes outside the fighter, attack and trainer fleets that have led the Pentagon in physiological episodes in the past six years include the KC-135, variants of the Air Force's C-130 cargo aircraft, as well as the Navy's MH-60S Seahawk helicopter (33, 32 and 27 incidents, respectively).
"With some of the platforms … we have a lot of airplanes, and they fly pretty long sortie durations, so there's more exposure time," Leavitt said of larger airframes. "In some cases, there is the problem with aging fleets, but we need to have systems that proactively prevent those problems."
"The Air Force has also fostered a culture of reporting even the smallest of symptoms to help us better understand PEs and their potential causes, which may appear to slow progress," the service said. "Additionally, we are still working to develop sensors to monitor both the human and the aircraft breathing systems … to target specific areas for future improvements."
The Department of the Navy attributes its success to a combination of improvements in how it records data on aircraft, more proactive maintenance, better education on the subject and new in-flight emergency procedures.
Physiological episode data provided by the military has fluctuated over time, though it's unclear why. PE numbers could change over time as a result of investigations into their causes, or because of differences in how the military reported its numbers to those who sought the information.
The services found explanations for the root causes of about 94% of reported PEs, the National Commission on Military Aviation Safety said in its sweeping 2020 report. But those answers haven't always come easily, and plenty of questions remain.
No single cause is responsible for physiological episodes, the commission said.