Bengaluru: The five-day Aero India 2023, the biggest-ever airshow till date finally concluded on a high with a spectacular final performance by aircraft and helicopters in front of a packed audience on February 17, 2023.
Inaugurated by Prime Minister Narendra Modi on February 13, the event witnessed the participation of 98 countries. The event saw the participation of 809 defence companies, including Micro, Small, Medium Enterprises (MSMEs) and start-ups, showcasing their technologies. The defence ministers of 32 countries, air chiefs of 29 countries, and 73 CEOs of global and Indian OEMs attended the event. Held at the Yelahanka Air Force Station in Bengaluru between February 13-17,  Aero India 2023 proved to be a grand event that showcased sorties, aerobatic performances and mid-air formations. The 14th edition of the grand air show, showcased the strides India is making in defence and aerospace. It also brought together agencies from various countries allowing them to advertise their innovations.
During the business days of the event, significant events like the Defence Ministers' Conclave, the CEOs Round Table, the Manthan start-up event, and the Bandhan ceremony were held. The last two days were open to the public, with aerial displays as the highlight. Aimed at forging and renewing partnerships between business entities, the Bandhan event, held on February 15 witnessed the forging of 266 partnerships, including 201 MoUs, 53 major announcements, nine product launches and three Transfer of Technology, worth around Rs 80,000 crore. The CEOs' Round Table on the sidelines of the airshow witnessed the participation of officials, delegates, and global CEOs from 26 countries, including Boeing, Lockheed, Israel Aerospace Industries (IAI), General Atomics, Liebherr Group, Raytheon Technologies, and Safran.
The airshow featured a range of aircraft, including the Light Combat Aircraft (LCA)-Tejas, HTT-40, Dornier Light Utility Helicopter (LUH), Light Combat Helicopter (LCH) and Advanced Light Helicopter (ALH), Rafale, Sukhoi-30 Mki, B-1, DC-3, F-16, F-35, Dakota DC-3, Harvard Trainer, Surya Kiran aerobatics team and Sarang helicopter display team were among the aircraft to participate in the aerial display. Anti-Arm Decoy, Apace AH-64, C-130J, C-390 Millennium, F/A-18, Hawk-I, Hawker 800, L39 Albatross, Tango Sierra TS-1003 (UAV) were on static display. India's indigenous light combat helicopter Prachand performed aerobatic manoeuvres on the fourth day of Aero India 2023.
The presence of C-390 Millennium, one of the youngest multi-mission tactical air transport aircraft in the world, at Aero India for the first time was significant as it showcased its cutting-edge features and capabilities. A product of leading Brazilian aircraft manufacturer Embraer, the C-390 entered service with the Brazilian Air Force in 2019.
"We are proud to bring Embraer's iconic C-390 Millennium to India for our guests to experience the true capabilities of this 21st-century military multi-mission aircraft," said Bosco da Costa Junior, president and CEO, Embraer Defense & Security. "India is a key market for Embraer, and we are keen to establish partnerships in the country… We look forward to engaging with India's defence and aerospace ecosystem at this event," he added. The C-390 Millennium's multi-mission platform offers a range of class-leading features, including a low operating costs and fast turnaround.
Hindustan Aeronautics Limited (HAL) showcased the full-scale model of supersonic trainer aircraft named HLFT-42 at Aero India and its deal of helicopter export to UAE for medical emergency was a major highlight. HAL signed an MoU with UAE-based medical service provider Response Plus Holdings (RPM) PJSC, for collaboration in Helicopter Emergency Medical Services and evacuation, a first for the organisation. Response Plus operates in a number of countries, including Egypt, Nigeria, Oman and Saudi Arabia, as well as the UAE. The event marked concrete opportunities for cooperation in defence exports with various agencies of the UAE. Several ongoing negotiations and projects fructified and resulted in three Memorandums of Understanding (MoUs) being signed. Under the terms of the MoU, the two partners will explore opportunities for cooperation in the emergency medical services (EMS), medical evacuation (medevac) and helicopter emergency medical services (HEMS). This shared opportunities will be sought in India, the Gulf states, and the wider Middle East and North Africa (MENA) region.
HAL also signed a memorandum of understanding with EDGE Group entity AL TARIQ. This MoU will allow both companies to explore the integration of the AL TARIQ family of long-range precision-guided munitions onto HAL's fixed-wing platforms. AL TARIQ is a leading developer and producer of highly modular long-range precision-guided munitions (LR-PGMs). Under the MoU, AL TARIQ will explore the feasibility of integrating their line of LR-PGMs onto HAL platforms for enhanced mission flexibility.
In line with the theme of Aero India 2023, 'The Runway to a Billion Opportunities', and highlighting local partnerships and investments in India, AL TARIQ also signed an MoU with Bharat Dynamics Ltd (BDL). This MoU entails creating avenues towards joint production of all weather, day/night, long-range precision-guided munition (LR-PGM) kits in India. Thus, Aero India 2023 proved to be a landmark event in galvanising India UAE cooperation in the defence sector. These signings will open up further opportunities for the defence sector of both countries.
Another highlights were MoUs between Gopalan Aerospace India Private Limited and Omnipol of Czech Republic for manufacturing and assembling 1st passenger aircraft (L 410 UVP-E20 version) by a private company in India, and between HAL and ELTA Systems Limited of Israel for cooperation on future business in maritime patrol radar for Indian platforms.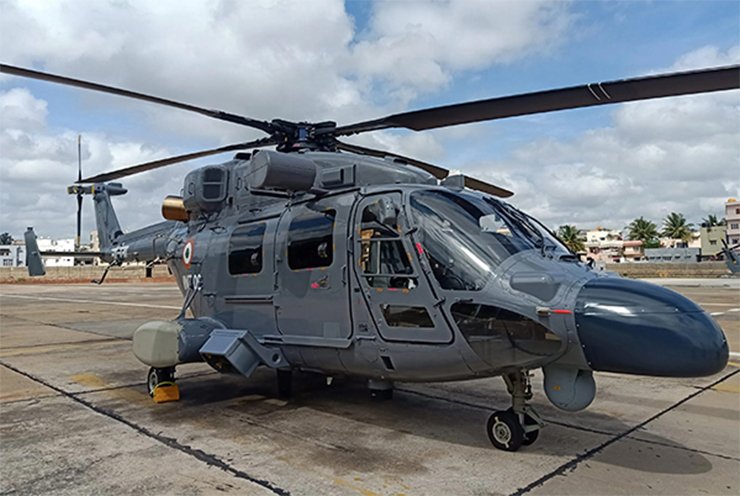 HAL signed a contract with the Argentinian Air Force (AAF) for spares and engine repair of legacy two-tonne class helicopters. Safran Helicopter Engines and HAL signed a workshare agreement for the joint development of the engine intended for the future 13-ton Indian Multi-Role Helicopter (IMRH) and its naval version Deck Based Multi-Role Helicopter (DBMRH).
At Aero India 2023,  some impressive products were launched, including Vertically Launch Short Range Surface-to-Air Missile (BDL), SAL Seeker ATGM for BMP II (BDL ), and Jishnu (BDL). The event also saw the unveiling of indigenously-built 'Counter Drone Radar' based on technology from the Defence Research and Development Organisation (DRDO) (Astra Microwave Products Limited), 9-millimetre subsonic ammunition (Munitions India Limited), and Software-defined NAVIC/GPS receiver module based on indigenously-developed processors (Astra Microwave Products Limited).
The event also saw Airbus and the Indian Institute of Science (IISc) in Bengaluru signing a Memorandum of Understanding (MoU) to expand the country's access to aerospace education and research. This partnership will help develop relevant skills and create a talented workforce that will power the future of the aerospace sector in India. The MoU also emphasises developing, certification, and applying new materials for producing aircraft, engines, and accessories.
The biennial airshow concluded on a promising note as it showcased India's position as an emerging major player in the global aerospace industry. And, the agreements and launches at the event displayed the huge potential for growth and development in Indian aerospace sector, promising exciting opportunities for both domestic and global players.