New Delhi: The Indian Air Force (IAF) has approached the defence ministry with a proposal to buy 156 'Made-in-India' Prachand Light Combat Helicopters from Hindustan Aeronautics Limited (HAL). It's a significant move by IAF aimed at bolstering its heliborne strike capabilities. Under the proposed plan, the IAF will induct 66 of the new helicopters, while the remaining 90 will be acquired by the Indian Army.
"The proposal for acquiring these 156 choppers has been initiated by the Indian Air Force and is expected to be approved by the Defence Ministry soon,"  stated a media report quoting top government officials. The IAF and the Indian Army are keen to add more of these choppers to their fleet to bolster their preparedness along the borders with China and Pakistan, added the officials.
Having proven its mettle, Prachand, also known as Light Combat Helicopter (LCH) is fully indigenous and designed to meet the specific requirements of the Indian armed forces. Fifteen of these formidable machines have been inducted into the services, demonstrating impressive capabilities in both desert terrains and high-altitude sectors.
Marked as a major milestone in Prime Minister Narendra Modi's 'Make in India' initiative in the defence sector, the proposal is expected to be approved soon. The Prachand Light Combat Helicopters were first inducted into the Air Force last year on October 3, and have since been extensively flown in the desert sector. The IAF, impressed with the chopper's performance, has been conducting integrated exercises with the Army, ensuring readiness for any future conflicts.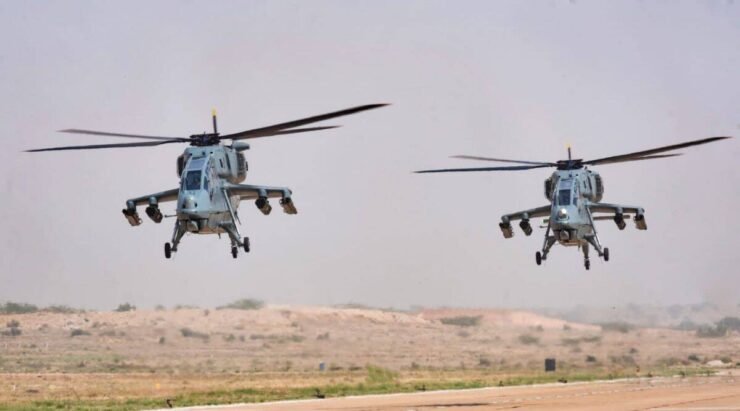 The LCH Prachand, functioning primarily as a close air support (CAS) aircraft in high-altitude terrain, excels in roles such as conducting destruction of enemy air defense (DEAD) missions, destroying enemy tanks, executing high-altitude bunker-busting operations, and intercepting slow-moving remotely piloted aircraft (RPAs). Equipped with HAL's new-generation Shakti engine, co-developed with the French engine-maker Safran, the 5.8-tonne helo has been designed to operate at altitudes of up to 20,000 feet.
As the only helicopter in the world with the capability to operate at altitudes above 5,000 to 6,000 meters while carrying a substantial offensive payload, Prachand choppers are ideal for operations in high-altitude areas like the Siachen glacier and Eastern Ladakh. Equipped with a range of air-to-ground and air-to-air missiles, they can effectively neutralise enemy air defences. Their navigation system allows pilots to identify and destroy targets with ease, enhancing their combat effectiveness.
Prachand holds the distinction of executing successful landings at forward camps situated at Siachen, an altitude of 4,700 meters above sea level, while carrying a 500 kg payload. Prachand comes armed with a 20-millimeter (mm) cannon mounted below its nose, capable of piercing light armour with a fire rate of one thousand bullets per minute. It also carries 70-mm rockets on pods on either side. Additionally, Prachand will be armed with advanced Dhruvastra air-to-ground missiles, designed to target hardened enemy shelters in high-altitude and diverse terrains.