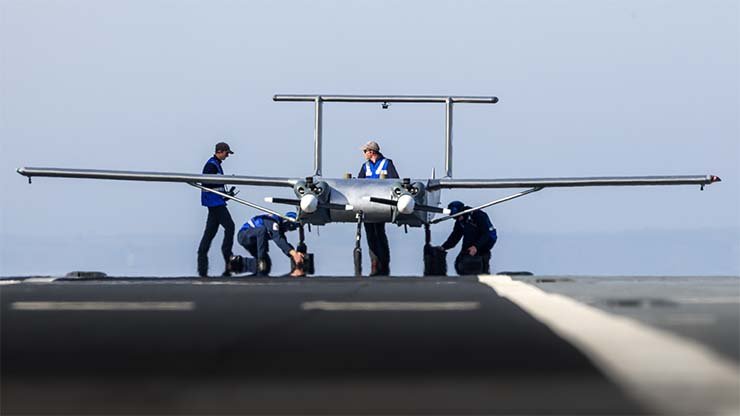 London: A twin-engine transport drone has landed on the deck of a British aircraft carrier in what the Royal Navy said is a first for the service. The drone, dubbed HCMC, flew on and off the deck of the HMS Prince of Wales during a trial near the coast of Cornwall, southwest England, announced the Royal Navy.
The drone, developed by British company W Autonomous Systems, flew for about 20 minutes from an airfield at Predannack to then touch down safely on the carrier's deck. After unloading a small payload from drone, it took off again and returned to Predannack.
The Royal Navy said in its statement that the aim of program is to "deploy drones with a UK Carrier Strike Group in the future, using them to transfer stores and supplies — such as mail or spare parts — between ships, without the need to launch helicopters."
"It's a vital step along the way to operating crewless aircraft safely alongside F-35 Lightning jets and naval Merlin and Wildcat helicopters which are currently the backbone of the Fleet Air Arm," the statement explained.
The twin-boom, twin-engine drone is capable of delivering payloads weighing up to 100 kilograms (220 pounds) with a maximum range of 1,000 kilometres (621 miles). The aircraft incorporates an autopilot system developed by British company Distributed Avionics, which eliminates the need for trained individuals to remotely control it.
The exercise wasn't the first time a drone operated from the HMS Prince of Wales, with previous experiments including small quadcopters and the Banshee target drone; the latter launches by catapult and use parachutes to land. However, the Royal Navy said the latest trials were in a "different league," involving a larger, more capable uncrewed aircraft than anything previously tried.
The HMCM drone flew on and off a Royal Navy aircraft carrier for the first time. The trials took place as the ship departed UK waters for an event off the East Coast of the United States taking place over the next few months involving drills with F-35 fighters, Osprey tilt rotor aircraft, and the General Atomic-made Mojave drone. The HMS Prince of Wales was scheduled for deployment this time last year, but suffered a propeller shaft failure soon after leaving its base in Portsmouth.
The HCMC drone trial is one of a series of experimental and operational drone programs with the Royal Navy, including a deal with Leonardo to develop an unmanned helicopter demonstrator and the purchase of Schiebel's Camcopter S-100 for surveillance missions.