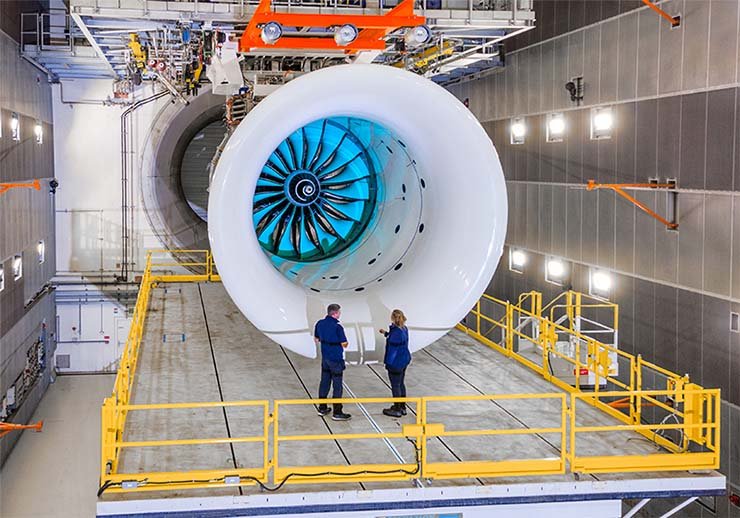 London: Rolls-Royce announced on May 18 that it has successfully completed the first tests of its UltraFan technology demonstrator at its facility in Derby, UK. The first tests were conducted using 100% Sustainable Aviation Fuel (SAF).
This is a historic moment for Rolls-Royce – it's the first time in 54 years the aero-engine manufacturer has tested a brand-new engine architecture and is proof of what can be achieved when industry and Governments work together.
Confirming the capability of the suite of technologies incorporated in the demonstrator is a big step towards improving the efficiency of current and future aero-engines. UltraFan delivers a 10% efficiency improvement over the Trent XWB, which is already the world's most efficient large aero engine in service.
In the nearer term, there are options to transfer technologies from the UltraFan development programme to current Trent engines, providing our customers with even greater availability, reliability and efficiency.
In the longer term, UltraFan's scalable technology from ~25,000-110,000lb thrust offers the potential to power new narrowbody and widebody aircraft anticipated in the 2030s.
Tufan Erginbilgic, CEO, Rolls-Royce plc, said, "The UltraFan demonstrator is a game changer – the technologies we are testing as part of this programme have the capability to improve the engines of today as well as the engines of tomorrow. That is why this announcement is so important – we are witnessing history in the making; a step-change in engine efficiency improvement. When combined with Sustainable Aviation Fuels, more efficient gas turbine engines will be key to hitting the industry's target of Net Zero flight by 2050. Today we are closer to achieving this ambition. Collaboration is key in driving the decarbonisation of air travel and the UltraFan programme is a great example of what can be achieved when government and industry come together with a common purpose."
The tests took place in the world's largest and smartest indoor aero-engine testing facility – Testbed 80. The 100% SAF, derived primarily from waste-based sustainable feedstocks such as used cooking oils, was provided by Air bp.
Testing the demonstrator is the culmination of many years work, which has been supported by the UK Government through the Aerospace Technology Institute (ATI), Innovate UK; the EU's Clean Sky programmes plus LuFo and the State of Brandenburg in Germany.
UK Business and Trade Secretary, Kemi Badenoch, said, "This cutting-edge technology will help the transition towards a greener future for aviation while attracting further investment into the UK's aerospace industry, helping grow the economy. I'm proud that the Government has backed this initiative through our Aerospace Technology Institute programme, and we will continue to work with manufacturers like Rolls-Royce as we seek to grow the UK's share of the global aerospace market."
Gary Elliott, Chief Executive Officer, Aerospace Technology Institute, commented, "Rolls-Royce's UltraFan programme has achieved a huge step forward in terms of the fuel efficiency of aircraft engines. The technology developed within the programme has greatly improved our understanding of how to increase engine performance while reducing environmental impact. It is a programme that puts the UK at the forefront of the global market, and is absolutely critical for the future of the UK aircraft engine industry. Our congratulations to the Rolls-Royce team for the successful tests of this exciting technology demonstrator."
Axel Krein, Executive Director of Clean Aviation, added, "Congratulations to the talented team for reaching this significant milestone in shaping aviation's net-zero sustainable future. The UltraFan® technology demonstrator, a flagship project of the Clean Sky 2 programme, showcases the power of innovation and collaboration in driving our journey forwards. This architecture will be further developed through Clean Aviation's HEAVEN project."