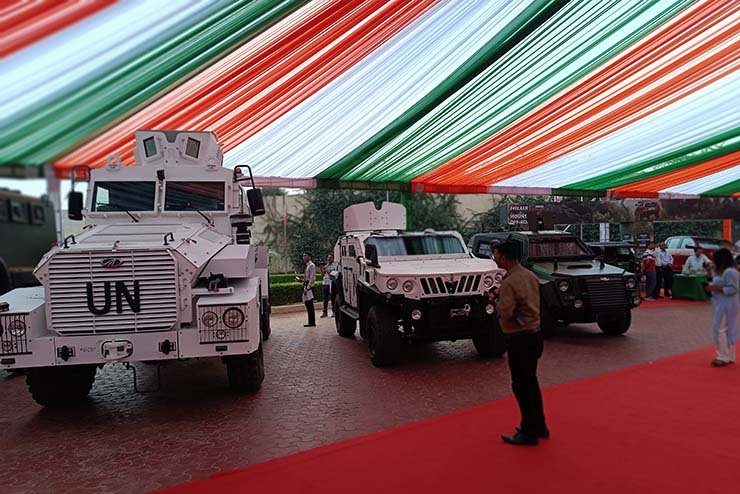 New Delhi: Characterised by a firm export push under a multi-pronged self-reliance drive to cut back on imports, Indian vendors from the defence industry on September 26 put up a display of an array of locally produced weapons and systems before 30 countries participating in 13th Indo-Pacific Armies Chiefs Conference (IPACC).
Organised by the Army Design Bureau, Indian Army in partnership with the Society of Indian Defence Manufacturers (SIDM), the Defence Equipment and Technology display at Manekshaw Centre, New Delhi on September 26-27, 2023, provided a valuable opportunity for the Indian defence industry to showcase their offerings to influential stakeholders from the Indo-Pacific region. The exhibition's focus was on the Mobility,  Armament & Ammunition, Survivability, Unmanned Aerial System (UAS), Counter – Unmanned Aerial System (C-UAS) and Robotics.
With a variety of drones, artillery guns, unmanned ground vehicles, surveillance gear and armoured personnel carriers underscoring advances in the defence manufacturing sector, the drone exhibits included loitering munitions, unmanned aerial vehicles (UAVs) for intelligence, surveillance and reconnaissance, multi-payload drones and nano UAVs.
At the Defence Equipment and Technology display, Tata Advanced Systems Limited showcased its ALS-50 loitering munition that has been delivered to the Indian Air Force. Each ALS-50 can carry six high explosive pre-fragmented warheads, and 100 units have been delivered to IAF with more on order, officials aware of the matter said.
Greater Noida-based IDR Research and Development showcased two types of nano UAVs, Doot and Parush which have been bought by the army for its counterterrorism units deployed in Jammu and Kashmir. The palm-sized Doot weighs 350 grams.
Also on display were Kalyani Group's Bharat 150 multi-mission drones and ideaForge's Switch UAVs for intelligence, surveillance and reconnaissance. The other military hardware showcased included Kalyani Strategic Systems' MaRG 155mm/39-calibre artillery guns with shoot and scoot capability, the Bharat 155mm/52-calibre ultra-light howitzers, the Garuda 105mm/37-calibre guns, long-range observation systems, and wheeled and tracked unmanned ground vehicles.
Skylark Labs showcased its AI based solutions to foresee emerging threats. Showcasing indigenous mobility solutions, Mahindra Defence displayed its range of armoured light specialist vehicles, DCM Shriram Defence displayed Zebu – Multi Role Armoured Vehicles while Ashok Leyland exhibited GTV 6X6 vehicle which evinced  keen interest. Also on display was Toyota Kirloskar Motor's iconic Hilux which was recently delivered to Indian Army.
Other prominent Indian exhibitors at the Defence Equipment and Technology display included Big Bang Boom Solutions, Shoghi Communications, Phoenix Group, Adani Defence, L&T Defence, SMPP, MKU, Zen Technologies, FCTecNrgy, Aimtrex, IIO Technologies, Airbornics Defence & Space, Almerio and Scandron.
According to experts, India's defence export target of Rs 35,000 crore by 2024-25 is achievable. India is currently exporting military hardware to more than 85 countries, with around 100 domestic firms involved. Its exports include missiles, artillery guns, rockets, armoured vehicles, offshore patrol vessels, personal protective gear, a variety of radars, surveillance systems and ammunition. India's military exports have risen sharply, and imports have recorded a drop on the back of policy initiatives and reforms. Exports grew 23 times between 2013-14 and 2022-23 while the spending on imported weapons and systems dropped from 46% of the total expenditure in 2018-19 to 36.7% in December 2022.