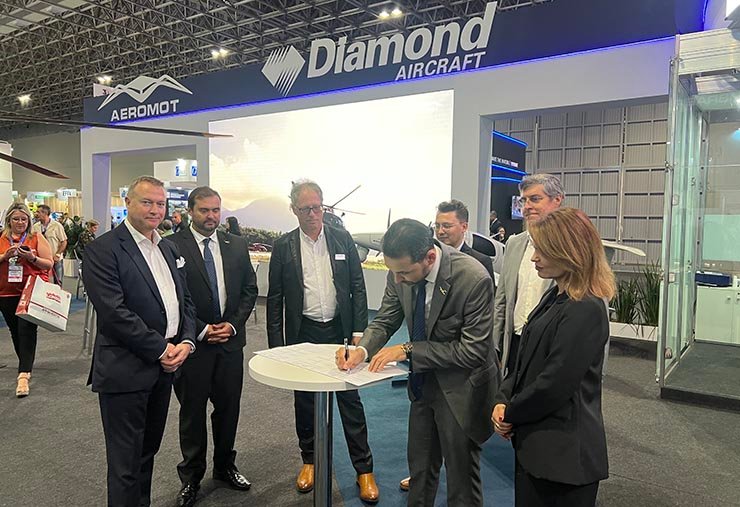 Immenstaad/Germany. Sensor solutions provider HENSOLDT and Brazilian company AEROMOT have signed a Memorandum of Understanding (MoU) to equip aircraft with state-of-the-art sensor technology. Specifically, the agreement concerns the delivery and integration of the "MissionGrid" mission system, consisting of the "PrecISR-1000" radar, the "ARGOS II" optronic observation system and the data links required for operation. MissionGrid" is integrated into a Diamond Aircraft DA62 MPP. With this equipment, the aircraft is capable of carrying out complex ISR (Intelligence, Surveillance and Reconnaissance) missions.
Prior to delivery, all MissionGrid components are fully pre-integrated at HENSOLDT's Immenstaad site in the "Airborne Systems Integration Lab". After delivery, AEROMOT will take over the installation of the mission system as well as maintenance and repair operations.
"We are proud that after our initial meetings last November, we have now signed the Memorandum of Understanding with AEROMOT. Together we are able to offer a fully integrated airborne mission system on the most efficient platform for the special mission aircraft market," says Russell Gould, Head of International Business Development.
With the signed MoU, HENSOLDT enters the special mission aircraft market in Latin America with a well-known industry partner in the region. From 2025, AEROMOT in Porto Alegre will have exclusive rights to build the DA62. This will allow HENSOLDT to offer the "MissionGrid Airborne Mission System" for ISR missions on the most requested platform.
Through HENSOLDT's cooperation with AEROMOT, ISR special aircraft could also be available in Brazil in the future for the protection of the Amazon region, which is severely threatened by mining, narcotics cultivation and deforestation. Together with AEROMOT, HENSOLDT is able to provide the DA62 MPP with the necessary capabilities to detect threats in the Amazon region in a cost-effective and resource-efficient manner.
The mission system with the product name "MissionGrid" can be deployed on fixed-wing aircraft, helicopters and unmanned aerial vehicles. In addition to air and naval forces, it is used for border protection, search and rescue missions, maritime patrols, law enforcement and object protection. The German Federal Police uses it to combat smuggling, illegal trade and for border security.