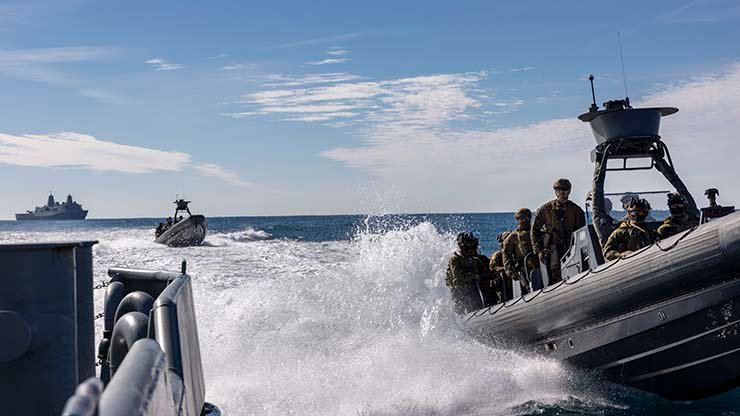 Washington: The US Marine Corps is examining what unmanned systems and disruptive technology will benefit the force during amphibious operations in the coming decades, and which combination of ships would best serve future missions.
It comes when the Pentagon grapples with what future warfare might require of American forces.
In its annual update on June 5 — part of the Corps' ongoing Force Design 2030 modernization push — the service laid out two parallel efforts: a 21st Century Amphibious Operations concept the Corps is studying with the Navy; and an ARG/MEU Next concept, which refers to the amphibious ready group/Marine expeditionary unit pairing of ships and embarked forces.
The 21st Century Amphibious Operations concept would "articulate the future role of amphibious operations in support of maritime campaigns and will describe new operating methods that incorporate agile platforms to supplement traditional amphibious ships," according to the Force Design update.
This concept looks into the 2040s and considers how Marines might conduct amphibious operations.
Col. Daniel Wittnam, the director of the service's Integration Division, said that the commandant of the Marine Corps is interested in putting anything unmanned or autonomous onto amphibious ships for experimentation.
"The mothership concept is another opportunity for the Marine Corps to show flexibility and to be able to show resiliency by looking at manned and unmanned teaming and different platforms to utilize new and emerging technologies with our ARG/MEU teams," Wittnam said.
He said the service already had funding to deploy the Shield AI-made V-BAT unmanned aerial vehicle on amphibious ships, and that the first Long-Range Unmanned Surface Vessel prototype would in the coming months move from Virginia to California to begin a user evaluation, which will include operations with a Marine expeditionary unit at sea.
This concept study will focus on how amphibious forces will fight, and not weigh in on how many ships the Corps needs the Navy to buy and maintain.
The Marine Corps, the Navy and the Office of the Secretary of Defence have differing views on the role of amphibious operations in today's joint force, and therefore how much money to spend on upkeeping existing ships and building replacements.
Congress attempted to partly settle the dispute by putting a 31-ship-fleet minimum into law, but the current long-range shipbuilding plan of record falls short of that mandate. Furthermore, the Pentagon has shown no sign of support for additional shipbuilding spending that would be needed to sustain a 31-ship fleet.
Despite multiple studies in recent years on the required size of the amphibious fleet, yet another study is nearing its conclusion and will look at ships' design, acquisition and construction processes, eyeing opportunities to decrease the cost of the fleet.
In the future, the Navy and Marine Corps could use a greater number of smaller and less expensive ships to "complicate the ability of our adversaries to find and target our sea-based expeditionary forces," according to the Force Design update document.