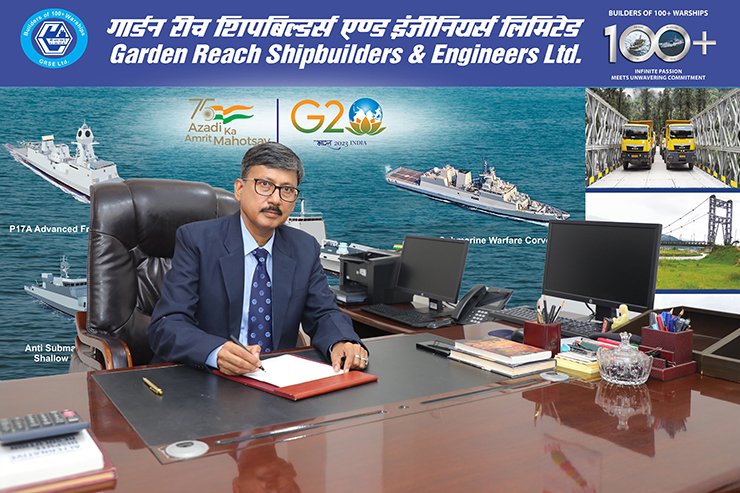 Kolkata: DIG Subrato Ghosh ICG (Retd), took over as Director (Personnel) of Garden Reach Shipbuilders & Engineers (GRSE) Limited on June 20, 2023.
DIG S Ghosh, a highly qualified and experienced mechanical engineer has played a key role at GRSE, in the delivery of Indian Navy and Indian Coast Guard ships as the General Manager of Rajabagan Dockyard, GRSE, and then as Chief General Manager (Bailey Bridge & Diesel Engine Plant), GRSE, prior to assuming charge as Director (Personnel). The 100th Warship from GRSE was delivered from Rajabagan Dockyard during his tenure.
DIG Subrato Ghosh, ICG (Retd), served in the Indian Coast Guard for over 25 years prior to joining GRSE in the year 2016.
DIG Subrato Ghosh, ICG (Retd) completed his  Bachelor's Degree in Mechanical Engineering from Dayalbagh Educational Institute, Agra and Master's in Engineering (Mechanical Marine) from Pune University. He also holds a Master's in Business Administration from Jamia Milia Islamia University, New Delhi. He has also undergone Advance Marine Engineering Course from the Institute of Armament Technology, Pune.
He has had an illustrious career in the Indian Coast Guard, during which he held various prestigious appointments, which included Chief Staff Officer (Technical), Principal Director (TS & IT), and Project Officer (PCVs). He has also held six afloat appointments during his career in the Indian Coast Guard.
DIG Subrato Ghosh, ICG (Retd), has proven experience and ability to work with multiple stakeholders under conflicting priorities and stringent deadlines and deliver results consistently with stated objectives. He has vast experience in shipbuilding as well as in ship repairs.