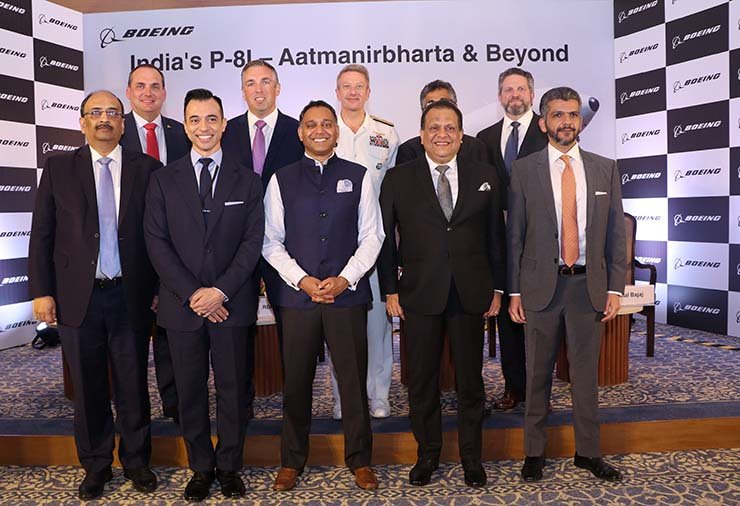 New Delhi. Boeing today highlighted the substantial indigenization achieved in the manufacturing and sustainment of its P-8I maritime surveillance aircraft and briefed media on the outlook for the platform, suggesting an increase in investment and economic impact as part of its Aatmanirbhar Bharat strategy. Twelve P-8Is already serve the Indian Navy's reconnaissance and surveillance needs in the Indo-Pacific region.
Boeing has already generated a substantial economic impact, amounting to $1.7 billion to support the current P-8I aircraft fleet in service with the Indian Navy. Furthermore, Boeing envisions that increasing the P-8I fleet to 18 aircraft will increase investments, approximately $1.5 billion, while creating further indigenization opportunities within India's aerospace and defense sector by 2032.
"Boeing's commitment to advancing the Aatmanirbhar Bharat vision drives our dedication to the P-8I fleet. As we respond to the Indian Navy's need for more P-8I aircraft, we're actively looking to enhance engineering, manufacturing, and sustainment capabilities in India, for India, and the world, benefiting both Indian and global customers," said Salil Gupte, president of Boeing India.
Since its induction in 2013, the P-8I aircraft, based on the 737 Next Generation platform, has become an integral part of the Indian Navy's fleet and has surpassed 40,000 flight hours with high mission readiness rates. Boeing played a pivotal role in establishing the Ashok Roy Training Simulator Complex at INS Rajali, and the Kochi training complex, inaugurated in April this year, features a state-of-the-art simulator for P-8I aircrew and technical team training. This ground-based training reduces on-aircraft training time, boosting mission proficiency and aircraft availability for the Indian Navy.
"We're proud to partner with the Indian Navy on the exceptional capability that the P-8 delivers as a proven multi-mission aircraft while enhancing the interoperability and maritime security requirements for India and the Indo-Pacific," said Dan Gillian, vice president and general manager, Mobility, Surveillance and Bombers, Boeing Defense, Space & Security. "Boeing is also committed to expanding its P-8 supplier network in India, which presently includes 15 public and private Micro, Small & Medium Enterprises that are part of Boeing's global supply chain and are delivering critical parts, components, and services for the P-8."
The globally proven P-8 fleet, over 160 aircraft in service that have accumulated more than 500,000 mishap-free flight hours around the globe, includes allies such as the United States, the United Kingdom, Australia, New Zealand, Norway, South Korea, and Germany.