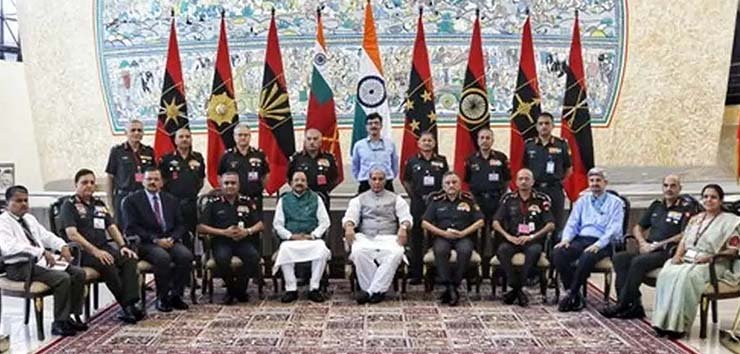 New Delhi: Deliberations on national security challenges along the borders with China and Pakistan and ways to boost the force's overall combat capability began by the top commanders of the Army on October 16 while kick-starting a five-day Army Commanders' conference. The Army Commanders' conference is being chaired by Army Chief Gen Manoj Pande.
The commanders will delve into a range of issues, including the ongoing reform process in the 1.3 million strong force, matters relating to jointness among the three services and key geopolitical developments. The Commanders' Conference, with its broad scope, ensures the Indian Army remains progressive, forward-looking, adaptive, and future-ready.
Defence Minister Rajnath Singh is scheduled to address the Army Commanders' conference on October 18. Chief of Defence Staff Gen Anil Chauhan and Air Chief Marshal VR Chaudhari are among those addressing the Army commanders. Ajay Kumar Sood, the Principal Scientific Adviser to the Government of India, will also deliver a talk on "Leveraging Technology for National Security".
On October 14, the Army said, "The apex leadership will brainstorm current or emerging security scenarios besides reviewing the operational preparedness of the Indian Army. They will also delve into pivotal subjects including review of the ongoing transformation process, training matters, HR management aspects and issues impacting serving personnel and veterans."
At the conference, the regional security situation and geopolitical developments, including the Hamas-Israel conflict and the Russia-Ukraine war may also figure. According to officials, the overall situation along the Line of Actual Control (LAC) with China as well as along the frontier with Pakistan will be discussed. Anti-terror operations in Jammu and Kashmir as well as the overall situation in the Union territory will also be deliberated upon at the conference.
As an apex-level biannual event, the Army Commanders' conference is held in April and October every year. The conference is an institutional platform for conceptual-level deliberations, culminating in making important policy decisions for the Indian Army.