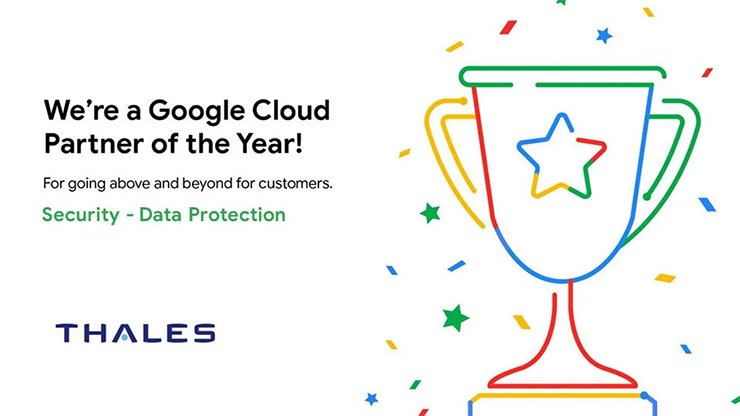 New Delhi: Thales has been selected as the Google Cloud Technology Partner of the Year in the Security – Data Protection category. Thales was selected alongside a global field of top Google Cloud partners for excellence in developing and implementing customer solutions based on Google Cloud's technology.
The Thales and Google Cloud collaboration addresses the needs of organizations around the world that are facing ever-increasing security, sovereignty, and performance requirements for their cloud deployments. With many years of cybersecurity expertise, Thales provides the level of trust and security required for customers around the world to move to the cloud, while maintaining the necessary level of control. By combining Thales' platform expertise with Google Cloud's enterprise-grade solutions and cutting-edge infrastructure,  the two companies work closely on a number of broad data security initiatives.
Thales, in its constant search of excellence in its security portfolio, recently announced a new collaboration to develop data security capabilities and bring additional AI-powered features to users of its CipherTrust Data Security platform. This is powered by Google Cloud's Vertex AI machine learning capabilities, to discover, classify and protect sensitive data in the cloud. The machine learning functionality helps to automate fundamental tasks for customers and ensure their sensitive cloud-hosted data remains protected.
Since late 2022, Thales' CipherTrust Cloud Key Manager has also supported Bring Your Own Key (BYOK) initiatives, including those for Google Cloud and Google Workspace. Thales and Google Cloud have also collaborated to operate a sovereign cloud joint venture (S3NS) for Google Cloud customers in France who seek to meet stringent data sovereignty requirements, such as those applicable to state and critical infrastructure organizations.
Thales has built a structured cloud offering for companies that want to meet the most demanding data protection standards. In France, S3NS, the joint venture between Thales and Google Cloud, aims to offer French companies and public institutions a solution providing the equivalent of Google Cloud , compliant with the "SecNumCloud" label, a certification from the French information systems security agency (ANSSI). To date, SecNumCloud has the highest level of protection in France, excluding the protection of national defense secrets, and in Europe. S3NS has a first offering already available that offers additional guarantees & controls, such as data location in Europe and external encryption managed by S3NS (based on Thales technology).
"Google Cloud's partner awards recognize the significant impact and customer success that our partners have driven over the past year," said Kevin Ichhpurani, Corporate Vice President, Global Ecosystem and Channels at Google Cloud. "We're delighted to recognize Thales as a 2023 Google Cloud Partner Award winner, and look forward to a continued strong partnership in support of our mutual customers."
Sebastien Cano, Senior Vice President of Cloud Protection and Licensing activities at Thales, commented: "We are very proud of our ongoing relationship with Google Cloud and this latest award recognises the brilliant work we've been doing with them across a range of projects. Together we are helping customers around the world discover, classify and protect their data more efficiently, and ensure their move to the cloud is as secure and compliant as possible."
Thales is also participating at Google Cloud Next, which is taking place from August 29-31, 2023. Some of the sessions include: