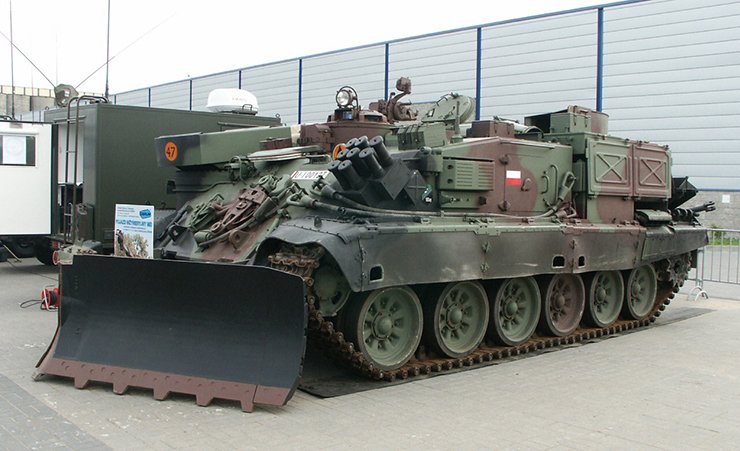 New Delhi: The Ministry of defence has initiated the procurement of 170 Armoured Recovery Vehicles (ARVs) based on a tracked platform to bolster India's defence capabilities.  A Request for Information (RFI) was issued September 5 by the Army for the procurement of these vehicles from Indian vendors.
As a part of the government's commitment to the 'Make in India' and 'Atmanirbhar Bharat' initiatives, stressing self-reliance and indigenous production, the Indian Army plans to procure Armoured Recovery Vehicles (ARVs) to operate in plain, semi-desert and desert terrain along with high altitude and mountainous terrain. These vehicles are needed for recovery of tanks and heavy equipment in case of breakdowns during an operation. The Army currently uses state-run BEML built, which are based on Russian-made T-72 tank hulls.
With the issuance of a Request for Information (RFI), the procurement process has already begun aiming to finalise the Standard Qualitative Requirements (SQRs), determine the procurement category, and identify potential Indian vendors capable of supplying ARVs within a tight timeline of two years from the Award of Contract/Supply Order, with a minimum requirement of 50 ARV vehicles per year. Indian companies like the Kalyani Group, Mahindra, Tata and L&T are expected to respond to the RFI besides state-run BEML among others.
The Army requires the ARVs to be able to operate in plain, semi-desert and desert terrain along the western borders, as well as, high altitude and mountainous terrain as occurring along the northern borders such as eastern Ladakh, central sector and North Sikkim. Specifying the weather conditions, the Army stated that the ARV should operate day and night and in conditions such as snowy, rainy, dusty and sandy, commonly encountered in both terrains.
While the vehicle should be able to sustain a minimum operating temperature of 0° to 5° Celsius in desert terrain, it should also be able to sustain a maximum temperature of 40° to 45° Celsius. In high altitude and mountainous terrain, while the vehicles must tolerate a minimum operating temperature of (-) 20° to (-)10° Celsius, the maximum must be at 40° Celsius.
The RFI as for the engine capabilities, states that the requirement is of a diesel fuel-based engine or power packed turbocharged system. It should be capable of starting in sub-zero conditions.
Stating the operational requirements of the vehicle, the Army said in its RFI, "Armoured Workshops having armoured fighting vehicles on repair load are often required to provide repair and recovery cover to disabled Armoured Fighting Vehicles (AFVs) during operations under hostile conditions." It added that the tracked ARVs will then provide repair and recovery during operations. One of the requirements of the Army is that it should possess adequate cross-country mobility and protection.
The vehicle should carry at least six persons including the driver and commander and utility equipment such as crane, dozer, winches, general tools and special maintenance tools, ancillary equipment to undertake repair and recovery roles. The vehicle should have an operational life of at least 32 years with maximum one overhaul or major repair intervention. It should be capable of being transported by existing in-service tank transporter vehicles of the Army, IAF transport aircraft and broad-gauge railway military bogey. These ARVs are crucial components in the maintenance and support of Main Battle Tanks (MBTs) like the 'Arjun.' They facilitate efficient and speedy repair and recovery operations during combat situations.
When it comes to weapon systems, the vehicle will have one Remote Controlled Weapon Station (RCWS) with an in-service 12.7 mm anti-aircraft machine gun and smoke grenade launcher. It should also be capable of detecting chemical agents and nuclear radiations for protection of the crew.
At present, BEML-built ARVs, based on Russian-made T-72 tank hulls, are in use, armed with a 12.7mm machine gun and equipped with powerful cranes capable of lifting up to 15 tons. Additionally, there are upgraded variants like the WZT-3M, produced in collaboration with Polish company Bumar. These ARVs, also known as ARV-3 in the Indian Army, have proven their worth in recovery operations. The Defence Research and Development Organisation (DRDO) has collaborated with state-owned Bharat Earth Movers Limited (BEML) to manufacture them for the Indian Army. These vehicles have impressive lifting and pulling capacities, ensuring their effectiveness in the field. These versatile vehicles are designed to recover damaged MBTs, tracked armoured vehicles, and heavy vehicles from the battlefield. They are equipped with tools for minor field repairs and earth-moving projects, enhancing the Army's self-sufficiency during operations.
As per media reports, a significant order worth US$275 million for 204 ARV-3/WZT-3M vehicles was scrapped in 2012. Despite such setbacks, the Ministry of Defence's recent initiative to procure 170 ARVs reflects a commitment to maintaining a robust and agile defence infrastructure capable of addressing diverse operational challenges. Over the years, India has made substantial investments in ARVs, with contracts dating back to 1999. As 'Make in India' and 'Atmanirbhar Bharat' initiatives continue to drive self-sufficiency and innovation in India, the procurement of Armoured Recovery Vehicles marks a pivotal step in enhancing India's defence capabilities. These vehicles will provide invaluable support to the Indian Army, ensuring the swift recovery and repair of combat assets under challenging conditions.