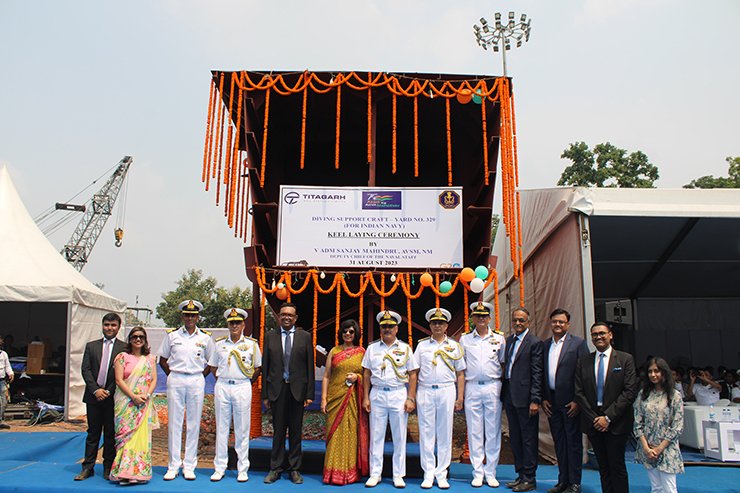 Kolkata: The first diving support craft (DSC) for the Indian Navy was launched by  Titagarh Rail Systems Limited (TRSL) on August 31 at its shipyard in Titagarh, West Bengal. The total contract value of all five DSCs was about Rs 175 crore and TRSL is building five such vessels for the Indian Navy.
The diving support craft is a state-of-the-art vessel equipped with advanced technological capabilities to facilitate diving operations in any possible underwater environment. It is also equipped with cutting-edge diving apparatus and tools to ensure unparalleled support to the Indian Navy's divers, the company said in a release.
The launch ceremony was graced by Aradhna Mahindru, wife of Vice Admiral Sanjay Mahindru, AVSM, NM, deputy chief of the Naval Staff (DCNS).
TRSL vice-chairman and managing director Umesh Chowdhary said, "We are extremely delighted to launch the first DSC to the Indian Navy. This is a significant milestone for us and we are committed to maintaining our stellar reputation of building quality ships."
"The DSC project is a testament to the 'Make In India' initiative of the defence ministry and will help fulfil any mission requirement gaps of the Indian Navy's CCDTs. Although these DSCs will primarily provide support to ships docked at various harbours, they will also serve as an optimal platform for training the Indian Navy's diving cadre. We believe that these vessels will be a game-changer in conducting diving operations," commented Vice Admiral Sanjay Mahindru.
In a major boost to the Indian Navy's capabilities, the diving support craft will help it maintain its edge in the maritime domain. It is also a significant achievement for the Indian shipbuilding industry and demonstrates the country's growing self-reliance in the defence sector, according to the release.